Last updated on December 26th, 2021 at 04:39 pm
Most multivitamins are not vegan because they contain gelatin, which is a binding agent derived from animal byproducts. However, there are vegan options available.
When it comes to consuming vitamins and minerals, it may be hard to choose which ones will suit you best. The most preferred way to obtain important vitamins and minerals is through foods, even if it's a vegan or omnivore diet. However, it's not always easy to do this due to your diet, genetics, or quality of food. The alternative is to supplement through taking individual vitamins, minerals or multivitamins.
Unfortunately, multivitamins are not always vegan because gelatin may have been used in binding the vitamins and minerals. Other ingredients in multivitamins may not be easily identifiable as non-vegan. For example, iron is sometimes derived from animal heme. Fortunately, we have a list of the best vegan multivitamins.
What Are Vitamins and Minerals?
Before we go further into multivitamins, we need to understand what are vitamins and minerals.
Generally, when we look at nutrients that our body requires, we think of carbohydrates, protein and fat. Of course, there are good and bad sources of each of these nutrients.
On the other hand, vitamins and minerals are micronutrients that support our metabolism. They are essential to our health. Different animals and plants require different types of micronutrients to survive.
A lack of essential micronutrients for humans will result in severe health problems.
The best way to obtain the required levels of vitamins and minerals is by consuming the relevant foods. These include citrus fruits, dairy and red meat. However, it's possible to get all your essential vitamins and minerals on a plant-based diet: dairy and meat are not required.
Some popular vitamins you need in your diet are:
Vitamin C – citrus fruits (reproduction of collagen)
Vitamin D – sunlight, fish (healthy immune system)
Vitamin B – whole grains, dairy and eggs (allow the body cells to function)
As you can tell, there are more vitamins and minerals that can be sourced from animal products and used in multivitamins. Thus, making them not vegan.
Fun fact: Vegemite is a great vegan source for vitamin B.
What Are Multivitamins?
Multivitamins are a substitute for individual intake of vitamins and minerals when there is a lack of nutrients from your current meal plan.
Keep in mind, the word multivitamin is used loosely because it also refers to multiple minerals, or multivitamin/mineral (MVM).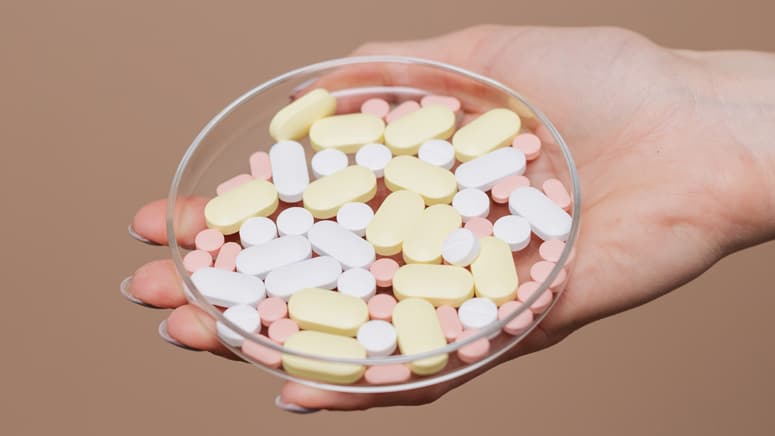 Another important topic is the difference between vitamins vs minerals. Vitamins are organic and can be broken or spoiled through heat or age. Minerals are inorganic and are usually an element like calcium, zinc or iron.
Can you consume individual vitamins or minerals instead?
Yes, you can consume individual vitamins or minerals instead of multivitamins. But, it is time-consuming, and depending on your diet, you may have to consume 10-13 tablets every day. Multivitamins are used for convenience and simplicity.
If you need many vitamins and minerals, your best option would be to buy a multivitamin instead.
Multivitamins get consumed either as a tablet, soft capsule, jelly, or in liquid form.
History
Carl Rehnborg, produced his first vitamin products in the 1930's. He sold it under the company name California Vitamin but later renamed it to Nutrilite in 1939. It was sold throughout the US and known to the world as the number one vitamin and diet product.
A bit later in the early 1940's America, the multivitamin became more readily available. Through the remainder of the 1900's and into the 21st century, several variations of multivitamins have been manufactured.
Though multivitamins are a perfect way to help your body. Some people may not want to take supplementary pills or may only require 1-2 vitamins out of the lot.
Some important vitamins and minerals required by the human body:
Magnesium
Vitamin D
Calcium
Zinc
Iron
Folate
Vitamin B12
Omega-3
Vitamin A
Vitamin C
Vitamins and minerals are best achieved through food intake, rather than pursued in a supplementary form. You'll receive the most benefits from whole foods.
This works by involving them in your diet or meal plans, but this doesn't work for everyone. It is best to seek advice from your family physician or dietitian on what supplements best suits your needs.
Some popular foods that are a better alternative than multivitamins include:
kale
spinach
flaxseed oil
Brazil nuts
legumes
seaweed
Conclusion
In summary, multivitamins are beneficial for all of types diets including vegan and vegetarian diets. Having a sufficient level of vitamins and minerals will help your body's metabolism.
But for vegans, you should know that most multivitamins are not vegan because they often contain gelatin and micronutrients derived from animal sources. Luckily, there are several manufacturers that produce vegan multivitamins.