No matter what kind of diet or lifestyle you subscribe to, there's no denying that cooking takes time — a lot of time.
And it's not just cooking you need time for, either — you need to make sure you also set time aside to shop for ingredients and prep them. Then, there's the cleanup that comes after cooking, something so many people hate having to deal with.
When you're vegan, chances are you need even more time to prepare your food, and that's time that you could be using for something else.
People find solutions for their food in different ways. Some prefer to simply eat out or purchase plenty of take-out for the week. Others set specific days for their meal prep and plan ahead to maximize their time.
Some people resort to frozen or microwave meals that require little to no preparation because they're too pressed for time. These pre-packaged, preserved meals aren't always the healthiest or environmentally-friendly option, but they're certainly the most convenient.
And then, you have people who prefer to subscribe to vegan meal kit delivery services as an answer to all their meal prep problems.
Meal kit delivery might be the solution to your food prep woes — let's take a look at why.
Why Use a Vegan Meal Kit Home Delivery Service
There's one thing that can put people off meal kit delivery services: price.
There's no doubt you may pay a premium when you subscribe to a meal kit delivery service. However, if you want to save valuable time and energy, the benefits of subscribing to these services may outweigh the cost.
Vegan meal kit home delivery services are convenient and often feature quality chef-crafted recipes. However, ingredients arrive pre-portioned, so all you need to do is get cooking.
Save Yourself the Extra Trips
Everyone knows how frustrating it can be to go store after store because one thing you're looking for is unavailable.
Grocery shopping should be simple, but the reality is that you might have to hunt down items now and then — especially if it's an ingredient crucial to your recipe.
Using a vegan meal kit home delivery service can save you multiple trips and ingredient hunting. You save time, you save on gas, and you get fresh ingredients delivered to your doorstep every time.
Freshly Cooked Right in Your Own Home
Meal kit delivery is a great way to reduce the amount of time you spend shopping for ingredients while still enjoying the joy of cooking your own food.
When you subscribe to meal kit delivery, you will have to cook your food yourself. Everything arrives pre-portioned and ready to go (sometimes cutting vegetables is required), and all you need to do is follow the recipes included in your order. You get to make sure that your food is cooked exactly how you want, plus you can alter the recipes however you'd like as you go.
All the Recipes Are Included
Everyone knows how frustrating and disappointing it can be to spend so much time looking for recipes only to realize that the one you settled on is, well, bad.
Taste is subjective, so even though many recipe websites have reviews and star ratings available, you may not enjoy the food you made from a recipe you found online.
Most vegan meal kit delivery services have chef-crafted recipes that accompany your orders. The recipes make it even more convenient to subscribe to a service since it eliminates the need to find recipes.
No Food Waste
Since ingredients come pre-portioned, you'll end up with little to no food waste after you cook. Say goodbye to buying too much of an ingredient only to have it go bad because you couldn't use it fast enough.
Massive Time Savings
Cutting down on grocery shopping, recipe hunting, ingredient portioning, and certain levels of prep can all translate to massive time savings. Free up some of your time for much-needed relaxation or other chores waiting to be done.
Meal Kits Are Usually Delivered in Recycled Packaging
Another worry many people have about meal kit delivery services is their impact on the environment. It may be a relief to know that many companies use recycled packaging to minimize their services' effect on the planet.
The Best Vegan Meal Kit Delivery Services in 2022
1. Purple Carrot
Purple Carrot is a company that will deliver not just vegan meal kits but also ready-to-eat prepared meals. Everything on their menu is plant-based, so if you're looking to make a lifestyle change, Purple Carrot is an excellent place to start.
According to Purple Carrot, their meals are clinically proven to lower LDL cholesterol and help people lose weight at the same time in as little as four weeks. The company proudly states that each meal kit reduces carbon footprint by 72% (compared to a non-plant-based meal).
If you're interested in customizing your meals further, Purple Carrot has various options available, such as gluten-free and high-protein menus to suit your needs.
Sample Meals
Buffalo Cauliflower Quesadillas
Japanese Yam Sushi Bowls
Amaranth Chocolate Porridge
Grape Leaf Mezze Bowls
Pricing
Meal kits start at two servings per order with a minimum of three dinners per week, totaling $71.94 for a week at $11.99 per serving. Shipping is free on all orders.
Newbies to Purple Carrot get a $20 discount on their first order.
Delivery Areas
Continental United States
Pros
Free delivery on all orders
Entirely plant-based
Delivers to contiguous United States
Offers gluten-free and high protein options
Cons
Limited breakfast and lunch options
2. Green Chef
Green Chef, a certified Organic company, only offers meal kits. Unfortunately, you won't find any prepared meals here. However, they offer various meal plans for any lifestyle — vegan included. The company designed its plans to be easy to follow to help lessen the adjustment period.
Besides vegan plans, Green Chef offers Keto + Paleo, Vegetarian, Fast & Fit, Mediterranean, and Gluten-Free plans for those in your life who have a different diet. Meal kits come with pre-portioned and pre-prepped ingredients that are GMO-free and certified organic, so customers are assured quality and convenience.
One of the best things about the vegan meal kits offered at Green Chef is that the recipes are simply to die for.
Sample Meals
Mushroom Curry Udon Bowls
Harissa-Spiced Sweet Potato Tacos
Truffle Butter Risotto
Bell Pepper Quesadillas with Mango Salsa
Pricing
Vegan meal plans start at two servings per meal, three meals per week, costing $13.49 per serving. Shipping is $9.99.
Delivery Areas
Continental United States, except for some parts of Louisiana
Pros
Mouth-watering recipes
Delivers to contiguous United States
Accommodates six different diets
Certified organic
GMO-Free
Cons
$9.99 shipping
On the pricy end
3. Sunbasket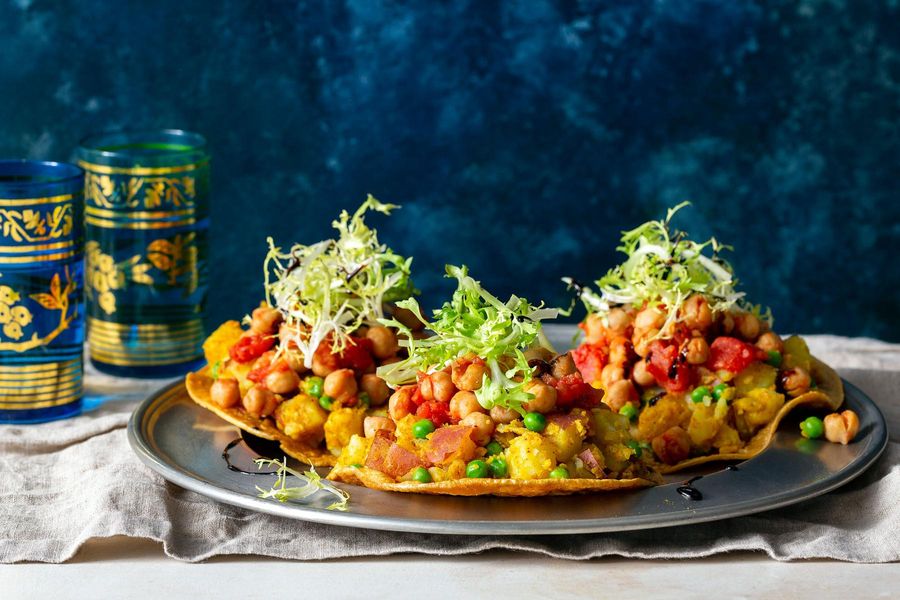 Sunbasket offers meal kits as well as prepared meals. Like Green Chef, Sunbasket is a certified organic company, ensuring that all ingredients you receive are pesticide-free.
They have a variety of menus for all sorts of diets — vegetarian, paleo, lean & clean, carb-conscious, gluten-free, diabetes-friendly, and Mediterranean. Unfortunately, Sunbasket does not have a fully-vegan meal plan. However, they have weekly vegan recipes that you can request when you subscribe.
Sample Meals
The recipes below are all vegan.
Open-faced lentil sloppy joes on whole wheat buns with coleslaw
Spicy Sichuan glass noodle stir-fry with plant-based beef
Sunbasket has vegan ingredients and ready-to-eat snacks and breakfast items available as well.
Pricing
Pricing for meal kits starts at two servings per meal, two dinners per week at $14.49 per serving. Servings get cheaper when you order more meals per week.
New customers get free delivery on their first order. If you're unsatisfied with your order, Sunbasket offers a money-back guarantee if you contact them within seven days.
Delivery Areas
Sunbasket ships nationwide. However, they don't ship to AK, MT, HI, ND, and some parts of NM.
Pros
Money-back guarantee
Many breakfast and snack options
Accommodates many diets and lifestyles
Cons
No dedicated vegan meal plans
4. Martha Stewart and Marley Spoon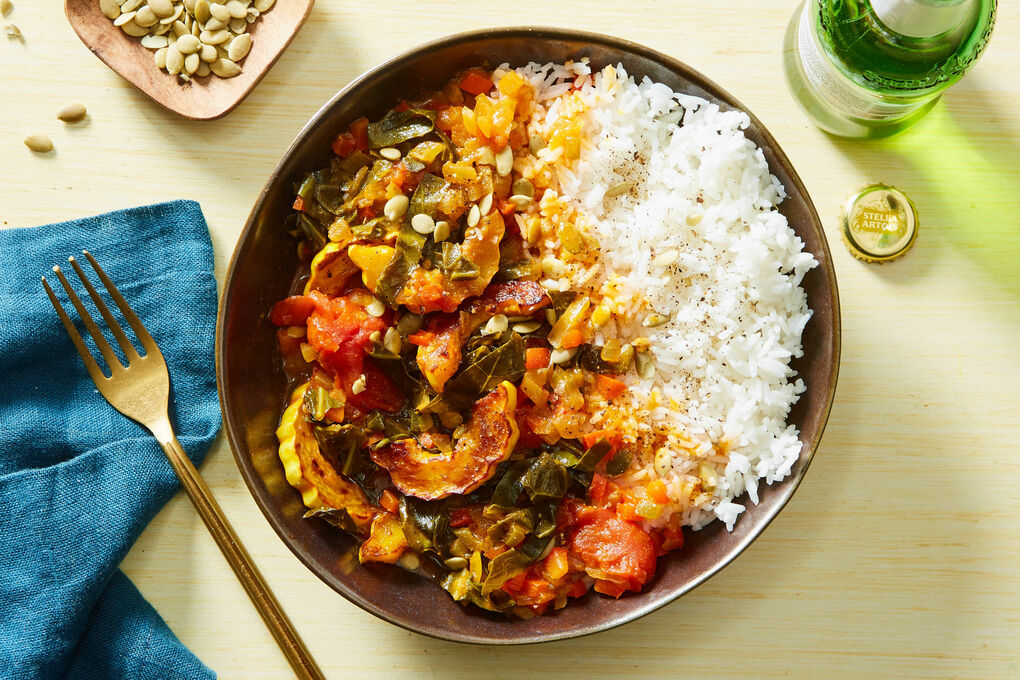 Martha Stewart & Marley Spoon offers meal kits where each recipe is formulated for taste and convenience. They have over forty recipes available weekly, with each recipe cookable in thirty minutes or less — and only six steps. Ingredients in each meal kit come pre-portioned, taking out the guesswork.
Martha Stewart & Marley Spoon has recipes to accommodate special diets such as low-carb and vegetarian. They also have many family-friendly meals. However, they don't have a vegan-only meal plan option just yet. But, if you're only looking for a few vegan dinners delivered a week, you may find enough here to keep you fed.
Sample Meals
Vegan Nigerian Red Stew
Roasted Sweet Potatoes & Crispy Chickpeas
Green Detox Smoothie
Pricing
You can order as few as two meals a week with two servings per meal, at $11.99 a portion. Two meals a week with four servings per meal will cost you $9.99 a serving. You must also pay $8.99 for shipping.
Delivery Areas
Martha Stewart & Marley Spoon delivers to most of the contiguous US.
Pros
Delicious yet convenient recipes
Ingredients arrive pre-portioned
Select recipes ahead of delivery
Choose between two-person or four-person dinners
Cons
No dedicated vegan meal plans
Delivery is not free
5. Hungryroot
Hungryroot is not a typical meal kit delivery service. Instead, they are an online grocer with recipes, including vegan meals.
One good thing about Hungryroot is The Cookbook, which holds all of its recipes. The Cookbook has many filters to make it easier to find recipes you need. You can select between two or four servings, then select which protein types you want in the recipes. You can also filter by spice level and cook time. If you're not into spicy food, you can choose how spicy you want a recipe to be!
You may also filter recipes by dietary needs. Choose from vegan, vegetarian, gluten-free, dairy-free, tree nut-free, soy-free, egg-free, peanut-free, and shellfish-free.
Did we mention every recipe in The Cookbook uses ingredients available on Hungryroot?
To sign up for Hungryroot, you complete a quiz that helps the company develop a list of recipes they think you'd like. Once done, you'll see an order summary including all the ingredients you need for the recipes you're given. You also get some ready-to-eat snack and side suggestions.
Sample Meals
Vegan Chorizo Loaded 'Tato
XL Spicy Vegan Chorizo + Potato Tacos
Guac + Romaine Veggie Burger
Coconut curry tofu + broccoli wrap
Pricing
Prices start at $9.99 per serving for the six-serving plan (smallest possible). Shipping is free if your order is above $70.
Delivery Areas
Hungryroot delivers to most zip codes within the contiguous US. They do not deliver to AK or HI.
Pros
The Cookbook
Site is straightforward to navigate
Tons of vegan options
Free shipping over $70
Cons
More of an online supermarket
6. Dinnerly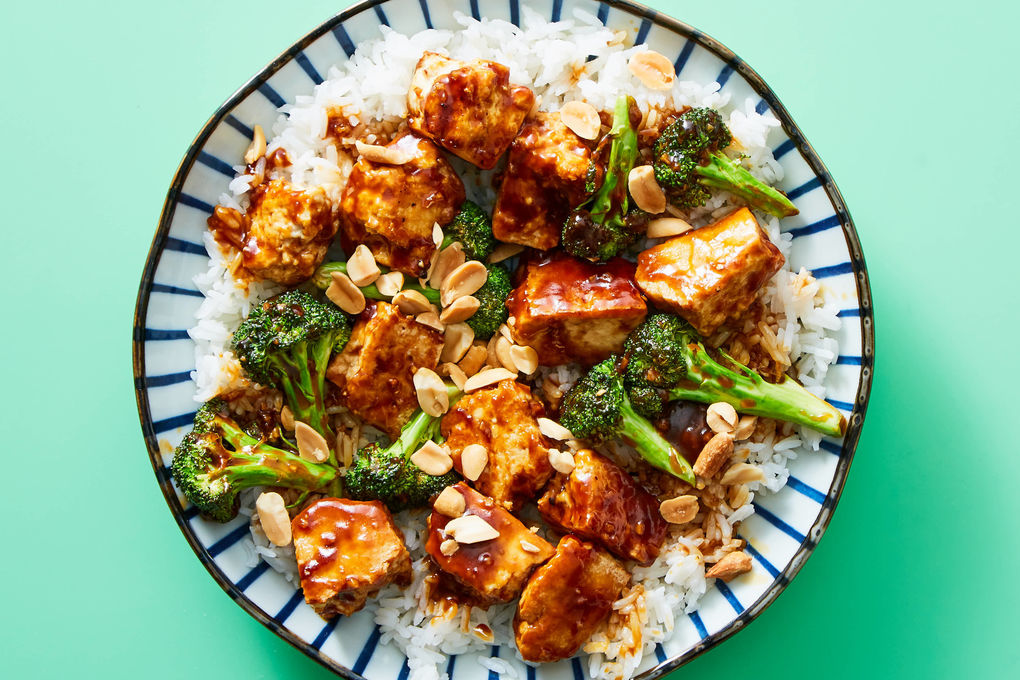 Dinnerly is one of the most affordable meal kit home delivery services on this list, with meals starting as low as $4.69 per person. The company has 28 recipes available to choose from each week, and each of these recipes only has five incredibly simple steps to make cooking a breeze.
Dinnerly claims that they've made some adjustments to make their service more affordable than others within the same space. For example, they've chosen flavorful recipes with fewer ingredients, and they use digital recipe cards instead of paper.
Unfortunately, they do not have a vegan-only meal plan available. What they do have are many vegan recipes that you can choose to include in your weekly orders. The availability of the vegan recipes may change from week to week, so you'll really need to plan ahead — otherwise, you may be left with no vegan option.
Sample Meals
The recipes below are all vegan.
Crispy Kung Pao Tofu with Broccoli and Steamed Rice
Vegan Roasted Veggie Grain Bowl
Garden Focaccia
Pan-fried Tofu with Black-Bean Sauce and Steamed Rice
Pricing
The minimum order for two-person boxes is three dinners per week at $5.89 a portion. Family boxes (four servings) start at three dinners per week at $5.59 a serving. You'll also need to pay $8.99 for shipping.
Delivery Areas
Dinnerly delivers to most of the contiguous United States.
Pros
Most affordable option by far
Delicious recipes
Really simple process
7. Daily Harvest
Daily Harvest is a fully-vegan food delivery service that focuses on providing smoothies, harvest bakes, harvest bowls, soups, flatbreads, oat bowls, forager bowls, chia bowls, and more. They have everything from breakfast to lunch to dinner — they even have desserts and snacks.
Daily Harvest's offerings are all plant-powered, providing you with plenty of servings of whole fruits and vegetables. They use organic ingredients and ensure no dairy, gluten, fillers, gums, or anything artificial.
Sample Meals
Mint + Cacao Smoothie
Lentil + Tomato Bolognese
Kale + Sweet Potato Flat Bread
Pricing
You can get up to 35$ off your first order if you're new to Daily Harvest. The cost of your orders will depend on the items you choose. For example, oat or chia bowls cost $5.99, and a harvest bowl or flatbread will run you $8.99. Shipping and tax are included in the price, so what you see is what you pay.
Delivery Areas
Daily Harvest currently ships to 95% of the contiguous US.
Pros
Fully plant-based
Website is easy to navigate
Discounts for certain order amounts
Great food and smoothies
Is a Vegan Meal Kit Delivery Service Right for You?
It's worth mentioning that some companies may offer meal delivery services, where your meals come prepped and ready to eat. If you want to skip the cooking, this may be the better choice for you.
However, if you don't mind cooking your food yourself, a subscription to one of these services might just help make your life easier. It may cost you more, but the convenience and the time you save certainly make up for the premium you pay.