Vegan nutrition has come a long way in the last decade, with innovative health supplements flooding the market every year. Plant-based protein powder used to be pretty basic and formulated so that vegans could get their hands on a protein supplement rather than with any real taste in mind.
But today's vegan protein powders come in various flavors, packed with more than just protein. This article will look at some of the best vegan protein powders on the market today.
Before we dive in, let's look at what makes a solid vegan protein powder.
You may be interested in the best blenders for vegans to make protein smoothies.
What to Look For in a Vegan Protein Powder
It can be challenging to find the right mix of ingredients in a protein powder. Some may offer only a few essential amino acids, while others may contain a significant quantity of sugar. So before settling on a particular plant protein, you want to ensure it meets specific criteria.
Here's a list of things to cross-check before investing in a protein mix:
Organic
While this may not seem essential, having an organic source of protein is key to better health. You don't want your nutrients to be packed with pesticides, especially because protein powders tend to be absorbed more readily by the body. As such, a non-organic powder can significantly harm your body, even while providing the right nutrients.
Complete Protein
Some protein blends are made using just one or two protein sources, like pea or rice protein. The issue with these mixes is that they often lack the full spectrum of amino acids required by the body.
A 'complete protein' contains the nine essential amino acids required for proper protein synthesis.
Some protein sources may contain the essential amino acids but in small quantities. This is why it's best to invest in a protein blend that includes a mix of protein sources, so you get the necessary amino acids.
BCAAs
This ties into the previous point on complete proteins. One way to ensure you're getting at least three of the nine amino acids is to look for a protein blend containing BCAAs.
BCAAs refer to branched-chain amino acids, and there are three of them: leucine, valine, and isoleucine. BCAAs play an integral role in muscular repair and regeneration after a workout.
Sugar-Free
Most protein blends have an off-putting taste, making them difficult to consume independently. This is why manufacturers will often add a sweetener to the protein blend to make it more palatable.
However, sweeteners like honey, coconut sugar, brown sugar, and even jaggery are like sugar. Whether synthetic or natural, consuming these sweeteners in large quantities defeats the purpose of exercising and taking a protein powder in the first place.
What you want is a protein powder that uses a sweetener like agave or stevia, both of which are natural and far less harmful than sugar.
Micronutrients
As vegans (especially those who have recently transitioned), we tend to miss out on some essential minerals or ingredients in our diet. For example, many vegans are low on omega-3 and B12, and we tend to forget to supplement these nutrients in our diet.
So it's best to look for a protein blend that contains a few, if not several, of these micronutrients. Some of these would include:
Magnesium
Calcium
B12
Vitamin C
Omega-3
Zinc
These are the essential elements to look for in a good vegan protein powder blend. You can also check out our list of the best vegan Omega-3 supplements and best vegan multivitamins in case you get a pure vegan protein powder. Additionally, it would be a good idea to invest in a sustainably-sourced powder so you can reduce your impact on the planet.
It's also more likely that a company concerned about the environment will focus on delivering organic, quality nutrition to its customers. And if you aren't sure where it's sourced from, you can always contact the company and ask them. Most companies will be more than willing to talk about their sourcing methods!
Common Sources of Protein in Vegan Protein Powders
The best part about vegan protein blends is that protein can be sourced from many ingredients. Unlike non-vegan blends, which mainly use whey, casein, or egg protein, vegan protein comes from a diverse range of elements.
The most common sources of protein in vegan protein powders include:
Pea protein
Hemp protein
Brown rice protein
Soy protein
Chia seed protein
Pumpkin seed protein
Some vegan protein blends also use legumes as a source of protein. The best part is that if you're gluten-intolerant or avoiding grains in general, you can always opt for other sources of protein.
Most good vegan protein blends contain a mix of these proteins to give you adequate quantities of the various essential amino acids.
Now that you've understood what to expect in an excellent vegan protein blend, let's look at some of the best vegan protein powders on the market.
Best Vegan (Plant-Based) Protein Powders
1. Vega One
The list starts with the Vega One Complete Protein blend containing 20g of organic, plant-based protein sourced from a mix of pea, sunflower seed, and pumpkin seed protein. The mix of ingredients ensures you get all nine essential amino acids in significant quantities.
This blend from Vega One also offers up to 50% of the recommended daily intake of 12 different minerals and vitamins. Aside from giving you adequate quantities of vitamin A and C, this mix even offers vitamin D, K, and a few of the rarer B vitamins.
Each scoop of Vega One offers nearly a fifth of your necessary fiber intake, making it easy to digest and absorb the protein you consume. Along with fiber, this blend also gives you the right probiotics to ensure a healthy gut. As such, a daily scoop of Vega One will significantly improve your overall health in the long run.
2. Plant Fusion Complete Vegan Protein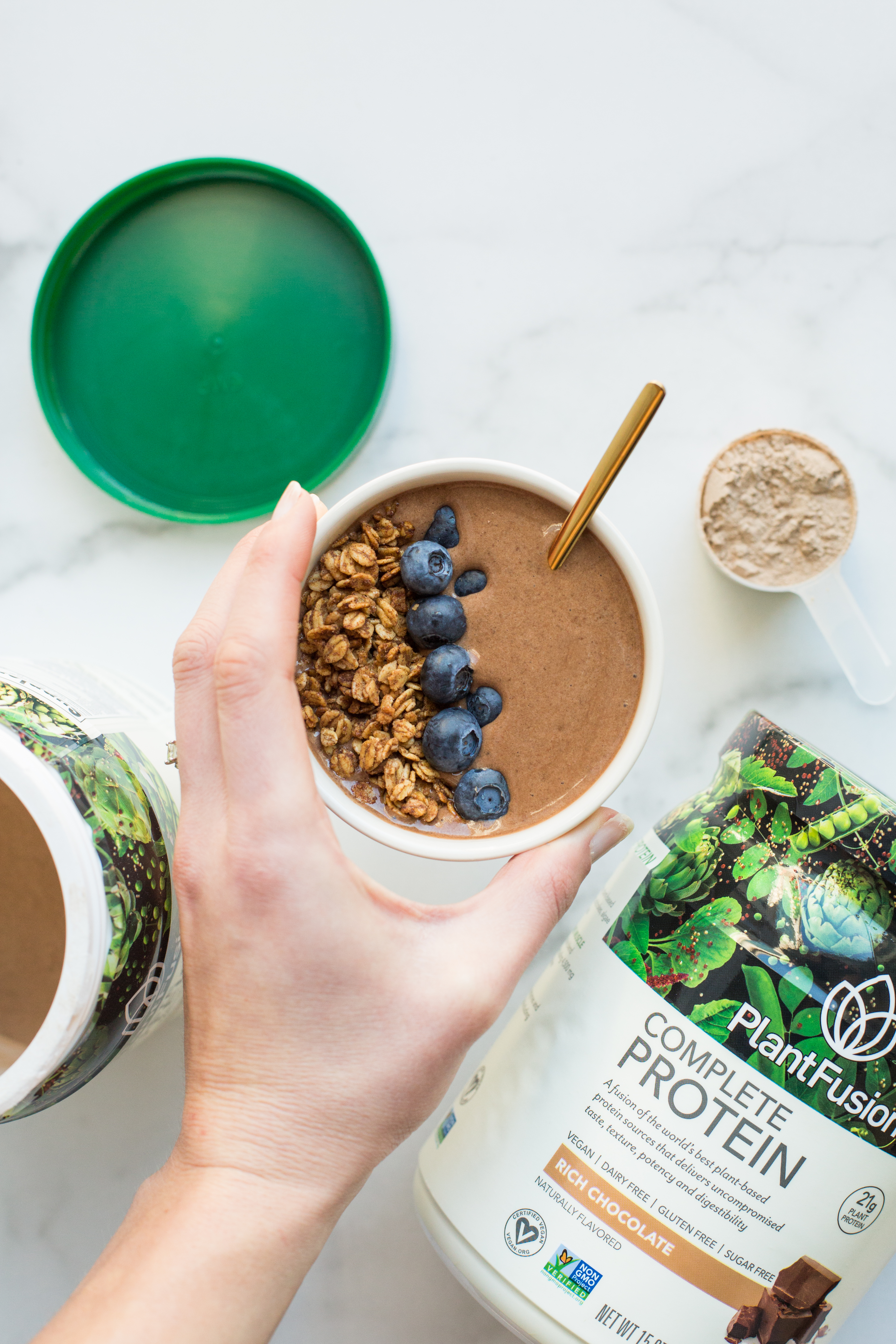 View on Plant Fusion or Amazon
The Complete Protein from Plant Fusion is frequently touted as one of the best-tasting vegan protein blends on the market. Each scoop is packed with 21g of protein made up of various sources, including peas, artichokes, superfoods, and even algae.
This protein blend is fortified with digestive enzymes to help you absorb maximum nutrition when you consume this protein after a workout. The digestive enzymes also keep your gut healthy, improving overall health in the long run.
This powder can be blended with fresh or frozen fruits along with almond milk for a delicious post-workout smoothie.
Plant Fusion sets itself apart by sourcing premium ingredients that add a unique flavor to its protein blends. Some include yellow peas from the northern hills of France and vanilla beans all the way from Madagascar.
3. Future Kind Organic Vegan Protein Powder
View on Future Kind or Amazon
This creamy vanilla, non-GMO blend from Future Kind is made with organic pea protein and rich in iron, helping your body build muscle and repair itself effectively. The best part about this powder is that it's simple and doesn't contain too many ingredients — perfect for the vegan minimalist.
The added iron gives you the necessary boost of energy to push through some of your more intense workouts. This blend also uses naturally-sourced stevia instead of sugars or artificial sweeteners, making it much healthier for regular consumption.
4. Vega Sport Premium Protein
This premium protein source from Vega Sport provides a whopping 30g of protein with each scoop! As such, it's the ideal supplement for athletes and others engaging in any intense form of physical exercise.
This protein blend also contains tart cherry, a natural anti-inflammatory that can help soothe your muscles post-workout and speed up the recovery process.
With just 6g of carbs and no-added sugars, this protein blend is also keto-friendly and safe to consume regularly.
This premium mix also comes with up to 5g of BCAAs to help you quickly build the kind of body and endurance you're going for. The high quantity of protein in this mix makes it a popular blend among athletes.
Luckily, this blend is also NSF certified, ensuring it contains no substances that will lead to disqualification in any sporting activity.
5. Plant Fusion Elite Activated Peptide Protein
View on Plant Fusion or Amazon
This unique protein mix by Plant Fusion was designed for quick absorption to accelerate muscle growth beyond what's possible with regular proteins.
Plant Fusion has redefined protein powders with this mix by providing peptides, which are absorbed more quickly.
Peptides are prepared to be easily absorbed by the cells, making the effect of nutrients more powerful. Peptides are amino acids broken down into simpler forms, allowing you to absorb them quickly before the nutrition is lost in the gastrointestinal tract.
This protein blend is also packed with adequate calcium to strengthen bones and help build lean muscle mass over time.
6. Orgain Organic Plant Protein
This plant-based protein from Orgain is perfect for those looking for an inexpensive yet high-quality protein blend to add to their diets.
This blend offers a hefty 21g of protein to your shakes and smoothies for every scoop. And while it's sugar-free, it comes in a deliciously creamy chocolate fudge flavor, making it easy to consume right after a workout.
However, if you don't want to have it straight from the pack, you can always mix it in with breakfast foods like pancakes or muffins for a delicious, protein-packed meal. It's worth mentioning here that while this protein blend is in a much lower price range, it still uses all-natural ingredients like other, more premium powders.
7. Truvani Plant-Based Protein Powder
This plant protein blend from Truvani comes in four exciting flavors:
Banana Cinnamon
Vanilla
Chocolate
Chocolate Peanut Butter
Each of these flavors mixes well with all types of plant milk, giving you a delicious protein shake without the chalky taste that typically accompanies protein blends. This mix from Truvani is also totally natural, ensuring you give your body the clean, green nutrition it deserves.
The best part about this blend is that it uses a combination of different sources to create a mix that offers a complete protein profile. These ingredients include brown rice protein, pea protein, and chia seed protein to give you all nine essential amino acids.
8. Garden of Life Organic Protein
Packed with 22g of protein and 4g of BCAA per scoop, this protein blend from Garden of Life is sure to compensate for any shortage of protein in your diet.
Aside from protein, this organic powder contains various nutrients to help repair and strengthen the body while building immunity. For starters, it includes thirteen organic sprouted grains, including amaranth, buckwheat, millet, and quinoa.
Sprouting helps extract maximum nutrients from the plant, giving your body a significant quantity of the vitamins and minerals these sprouts have to offer.
Additionally, this protein blend also contains vitamins A, D, E, and K and probiotics and enzymes to help improve gut health. These enzymes also help your body properly digest and absorb the ingredients, so they take effect quickly.
9. VeganSmart Plant-Based Protein
The VeganSmart protein mix uses five different sources of plant-based proteins, so you get a significant quantity of each essential amino acid. The five protein sources include pea, quinoa, chia, potato, and chlorella protein. These ingredients are blended to give you 20g of protein per scoop.
Furthermore, this blend also includes nine different fruits and vegetables to bring you a range of polyphenols and antioxidants.
As a bonus, you also get a dose of twenty-three different minerals and vitamins in this protein blend. In essence, this blend can be used as a meal replacement in case you're too lazy to cook after an intense workout.
10. Clean Green Protein
This Clean Green Protein mix comes with a revolutionary new ingredient in the plant-based fitness industry — lentein. This unique ingredient is high in essential amino acids and contains a higher quantity of B12 than most other plant protein sources like rice, pea, or hemp.
Lentein also happens to be exceptionally nutrient-dense, comparable to vegan superfoods like moringa and spirulina.
While it offers a moderate 20g of protein per serving, the micronutrients and greens in the mix make it a more wholesome source of nutrition than most vegan protein powders out there.
Conclusion
These are the best plant-based protein powders on the market right now, and while some of them seem pretty pricey, it's worth the investment.
Whether you're a top performer, someone who works out regularly, or you're looking to add more protein to your daily diet, these blends are designed for you. They come with adequate fiber and additional nutrients to help you build a more robust and healthier body.