Last updated on June 13th, 2021 at 07:37 pm
Since the soft drink contains no animal ingredients, Mountain Dew is considered vegan. However, not all flavors of Mountain Dew are vegan due to some of the artificial colors.
Mountain Dew is an American carbonated soda drink. It was invented in the 1940s in Tennessee and has quickly become a favorite beverage all across America. Mountain Dew has since expanded and can be found in a vast array of other countries. Barney and Ally Hartman bottled it themselves and begun their distribution starting in both Virginia and Tennessee.
Luckily, Mountain Dew is completely vegan, so it's fine for you to drink. There are some discrepancies regarding artificial colors but, for the standard vegan, you won't have any issues.
According to the official parent company website—PepsiCo—ingredients generally include:
Mountain Dew Original:CARBONATED WATER, HIGH FRUCTOSE CORN SYRUP, CONCENTRATED ORANGE JUICE, CITRIC ACID, NATURAL FLAVOR, SODIUM BENZOATE (PRESERVES FRESHNESS), CAFFEINE, SODIUM CITRATE, GUM ARABIC, ERYTHORBIC ACID (PRESERVES FRESHNESS), CALCIUM DISODIUM EDTA (TO PROTECT FLAVOR), YELLOW 5
Mountain Dew Code Red: CARBONATED WATER, HIGH FRUCTOSE CORN SYRUP, CONCENTRATED ORANGE JUICE, CITRIC ACID, SODIUM POLYPHOSPHATES (TO PROTECT FLAVOR), SODIUM BENZOATE (PRESERVES FRESHNESS), NATURAL FLAVOR, CAFFEINE, SODIUM CITRATE, GUM ARABIC, CALCIUM DISODIUM EDTA (TO PROTECT FLAVOR), RED 40, YELLOW 5, BLUE 1
Mountain Dew Live Wire: CARBONATED WATER, HIGH FRUCTOSE CORN SYRUP, CONCENTRATED ORANGE JUICE, NATURAL AND ARTIFICIAL FLAVOR, CITRIC ACID, SODIUM BENZOATE (PRESERVES FRESHNESS), CAFFEINE, SODIUM CITRATE, GUM ARABIC, YELLOW 6, CALCIUM DISODIUM EDTA (TO PROTECT FLAVOR), YELLOW 5, RED 40
The ingredients can change depending on flavors, sugar free versions, and country of purchase.
While this list may appear vegan, some may dispute whether it truly is. A few of these items are known to sometimes be made using animal products in the refinement process. Due to this being occasional, rather than always, it is impossible to tell whether or not they were used in each instance. It is because of this that some vegans may err on the side of caution and avoid any products they suspect could contain any animal traces.
Various websites claim that Mountain Dew is vegan, and list its flavors as being such. It would be up to the individual to judge whether they genuinely believe it to be vegan or if they would rather choose a different soda.
Mountain Dew and Vegan Ingredients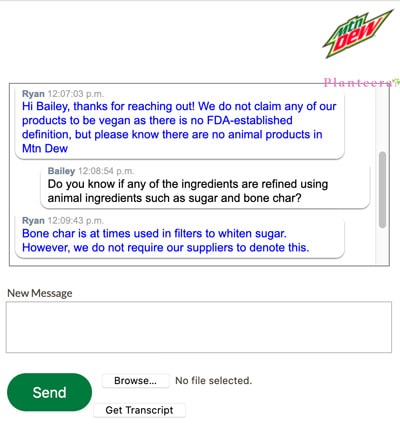 Refined Sugars
Refined sugars are the first ingredient that some vegans may query when choosing products. While sugar itself is vegan, some of the refining processes can contain traces of animal products. White sugar can be refined using bone char. This doesn't mean the sugar contains traces of bones, but it does mean that animal products have been used during production. This process is more common in the United States, so you may avoid it elsewhere, but that cannot be guaranteed.
Ideally, it is better to stick with a sugar that is certified as vegan, or to use maple syrup as a substitute. This, obviously, would not be possible when buying Mountain Dew. It would be up to you to decide whether you would feel comfortable consuming a product that has potentially had animal products used in its ingredients.
Food Coloring
Food coloring can also be a hazy area in terms of morally conscious veganism. Some food colorings do contain animal products such as bugs, squid ink, or even snails, meaning that natural food coloring is more likely to be unsafe for vegans than artificial coloring.
Research has shown that there tends to be three different food colorings used within Mountain Dew. These are Yellow 5, Red 40, and Blue 1.
Yellow 5 – Also known as tartrazine, this is an artificial coloring made completely from chemicals. Due to its artificial status, this means it is entirely vegan. This doesn't necessarily mean it is okay though, as it is bad for you and can potentially cause reactions.
Red 40 – This food coloring is made up mostly of petroleum or tar products, and not animal contents. This means that Red 40 is an acceptable food coloring however, similar to Yellow 5, it isn't good for you overall.
Blue 1 – While some blue dyes contain insect parts to gain their color, Blue 1 does not. Similarly, to Red 40, Blue 1 is made up of petroleum and chemicals, giving it an artificial ingredients list. Conclusively, Blue 1 is vegan friendly due to a lack of animal-based ingredients.
Most artificial food coloring is safe for vegans due to being made up of chemicals and other components. It is when using natural food coloring that a vegan must be especially careful, as animal products are considered natural.
Thankfully, the artificial nature of these three colorings means that they are made up of ingredients that do not contain animal products.
Natural Flavoring
Flavoring in products may or may not be vegan depending on its source of origin. Artificial flavoring will be manmade, and therefore less likely to contain any animal products within their ingredients list.
Natural flavors are where it can become difficult for vegans. A flavor is deemed to be natural if it is derived from spice, fruit or fruit juice, vegetable or vegetable juice, edible yeast, herb, bark, bud, root, leaf or similar plant material, meat, seafood, poultry, eggs, dairy products, or fermentation products, in accordance with FDA guidelines. While the plant-based derivatives are fine, it is the animal-based flavors you would need to be careful of.
Original Mountain Dew contains citric acid for flavor to give it that refreshing lemony taste. This is a naturally occurring flavor taken directly from the fruits themselves. The chemical is isolated from lemon and lime juice, and then added to the rest of the ingredients. Due to this, the flavoring of Mountain Dew is still vegan.
There have been debates regarding whether natural or artificial flavors are better for you, however the consensus appears to be that neither one is overly healthy. Natural flavors may be better in the sense that they would be acceptable in a whole foods diet. Yet, for a vegan, artificial flavors may be more beneficial as you would have that reassurance that there are definitely no animal products included. The health-conscious vegan would need to consider which of the two is more important to them regarding whole foods versus the potential of animal products, and choose accordingly.
Ethics
While the above ingredients may not contain animal products directly, there are ethical issues that will need to be addressed. Some ingredients, especially artificial coloring, or flavoring may involve animal testing.
These products need to be checked for their safety for human consumption but, in doing so, this can harm animals. In particular, mice or rats are used to check the safety of products in terms of digestive problems or skin irritation.
This can cause pain and suffering in the animals used and, following the tests, these animals are sometimes killed rather than rehomed or given treatment. At times, this is due to their suffering, but in others they potentially could have gone on to live a happy life. To a morally conscious vegan this would cross a line and be unacceptable.
Even the methods of euthanasia can be questionable. Some are reportedly quick and painless, but there are other, even less ethical still, methods that can be used.
It is these ethical situations that vegans truly need to take into consideration when purchasing products that contain chemicals.
Alternatives
If you do not wish to compromise on your morals, but still want the opportunity to enjoy soda and other beverages, it may be worthwhile looking into an alternative.
You could potentially make your own sodas, particularly if you own a SodaStream or similar. This way, you can ensure what ingredients are put into your soda, as well as create flavors that you love.
Alternatively, you can always buy vegan-friendly products that are also Fairtrade. This means that no animals would have been harmed in making them, and the workers and farmers would also have been paid and treated fairly. This way, you do not have to break your dietary choices and know that you are doing some good too.
Conclusion
Mountain Dew is seen by a lot of people as being vegan friendly. While this can be the case, there is always the ever-present risk that any ingredient may have used animal testing and are not ethically sound.
It would be down to the individual as to whether they would be willing to take this risk. Due to the difficulty in finding out where the ingredients have come from, and whether they are contaminated, Mountain Dew is generally assumed to be safe.
If you prefer to not take the risk, then there are alternate sodas you can buy that are confirmed and guaranteed as being vegan for your peace of mind. Otherwise, there is nothing stopping you from making your own.