Last updated on June 13th, 2021 at 07:47 pm
Unfortunately, Krispy Kreme Donuts are not vegan because they contain egg and milk ingredients. Luckily, there are alternative vegan versions of the famous glazed donuts at local vegan bakeries.
For many years, Krispy Kreme Doughnuts has provided the world with divine, light and airy donuts. The donuts are incredibly tasty, that they'll leave you wanting more. It's a show stopper and the most popular option of their donut range is the original glazed donut, which comes to no surprise because they spent years perfecting its recipe before making any other flavors.
With perfecting their original glazed donut, they made more delicious flavors such as their iced and filled range. But unfortunately for vegans, they do not provide any vegan-friendly options due to containing eggs and dairy products within their donut recipes.
You'll find most donut stores will not provide any vegan options as eggs and dairy products are their main ingredients. But there are a fair few donut stores that provide vegan options such as Voodoo Donuts in various US locations, Karma Baker in California, Beet Box Bakery in Denver, and Bistro Morgan Bakehouse in Melbourne, Australia.
What Makes Krispy Kreme Donuts Different?
Krispy Kreme donuts, unlike many others, are light and airy. The donut batter sets them apart from their competitors and the original glaze is the cherry on top. The recipe itself contains yeast which not many donuts use, the airy texture is also due to the air-pressurized extruder that is used to form the donut shapes.
What Are the Flavors?
Krispy Kreme has many unique and flavorful donuts such as:
Iced and Glazed Range
Chocolate Ice Glazed
Oreo Cookies & Kreme
Chocolate Iced Glazed with Sprinkles
Strawberry Iced
Original Glazed
Filled
Cake Batter
Glazed Raspberry-filled
Glazed Lemon
Cinnamon Apple-filled
New York Cheesecake
Top-ranked Donuts
Original Glazed
Glazed Chocolate Glazed
Chocolate Iced Glazed
Chocolate Iced with Sprinkles
Glazed Blueberry Cake
Chocolate Ice with Custard Filling
Cake Batter
Chocolate Iced Raspberry-filled
Glazed Raspberry
Glazed Sour Cream
Vegan Options at Krispy Kreme Doughnuts
Though the donut range from Krispy Kreme isn't vegan, there are other options such as:
Various Teas
Some Sodas
Frozen Lemonade or Strawberry Chiller (slush)
Black Coffee
Various Juices
Expresso
But it's not often a person visits a famous donut shop to buy drinks.
History
The first-ever built Krispy Kreme store opened in the 1930s in North Carolina, by a man named Vernon Rudolph. Many people at the time would follow the scent of the donuts from down the street and purchase a warm donut.
Krispy Kreme Donuts then started opening up a small number of stores and selling their original glazed donuts in the 1940s through to the 1950s, where they became quite popular and well known, that's when they needed to innovate. Vernon and his team of engineers created a machine to make the donuts for each store, where they spent years improving and perfecting their machinery.
In 1976, Beatrice Foods company bought the Krispy Kreme franchisees when Vernon Rudolph passed away in 1973. Later in 1982, the small group of franchisees bought back Krispy Kreme donuts and began to expand to places all around America.
In 2003, Krispy Kreme made its debut in Sydney, Australia, and London, England. Since then Krispy Kreme has over 700 stores worldwide.
Where to buy Krispy Kreme Donuts?
You can find Krispy Kreme in prepacked boxes of 4, 6, and 12 at your local 7/11 store, Jesters, Zomato and even amazon.com sell Krispy Kreme donuts.
But nothing will beat going down to one of the many Krispy Kreme stores and picking up some freshly made donuts. You can pick these by going through the stores, going through the drive-thru, and even many delivery sites deliver Krispy Kreme donuts to your doorstep.
Krispy Kreme Doughnuts doesn't just sell donuts, they sell coffee, shakes and delicious bagels as well.
Is the Krispy Kreme Donut Range Healthier than Its Competitors?
When it comes to healthiness, Krispy Kreme isn't a healthy dessert. But, compared to its competitors, Krispy Kreme has fewer calories, sugar, fat, and sodium. Regarding both Dunkin' glazed donuts and Krispy Kreme glazed donuts, Krispy Kreme has 190 calories while the Dunkin' has 240 calories.
But if you are trying to watch your weight or the calories you eat, even though Krispy Kreme is somewhat healthier than most donuts, you'll want to make sure to eat it in moderation.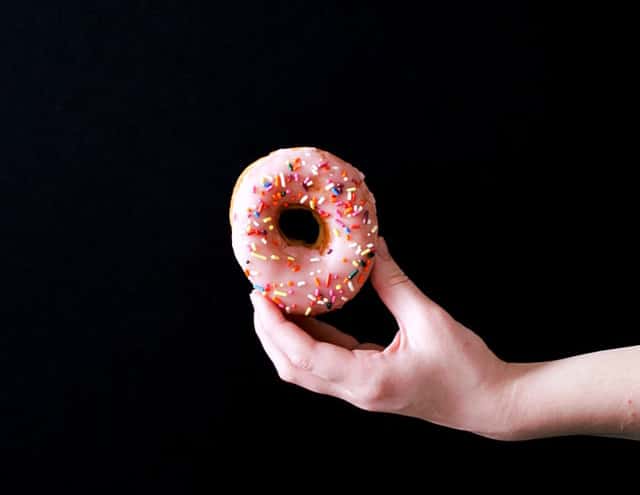 Alternatives to Krispy Kreme
Some popular alternatives to the famous Krispy Kreme donuts are their top competitors such as Dunkin', McDonald's, Starbucks, Mad Over Donuts (MOD), and Sonic Drive-in.
Another perfect option you can try is making your fresh vegan donuts with the following recipe.
Vegan-Friendly Krispy Kreme Doughnut Recipe
Even though there are many options for vegans to grab a donut from different donut stores, you may miss out on the crucial part of a good donut, freshness.
You can solve this problem by creating your fresh, warm donuts that are vegan-friendly.
Dough
1 1/4 cups plain flour
1 1/4 cups white bread flour
1/4 cup caster sugar
1/2 teaspoon Salt
2 teaspoon yeast
1.75 oz vegan block butter softened
100 ml unsweetened non-dairy milk
2 teaspoon corn flour mixed with 3 tablespoons water
1/2 teaspoon apple cider vinegar
vegetable oil for frying
Glaze
1/4 cup vegan butter, melted
2 cups icing sugar, sifted
2 teaspoons vanilla extract
2-4 tablespoons warm non-dairy milk
Directions
Preheat oven to 350F degrees. Grease two donut pans.
Combine the apple cider vinegar and milk in a bowl to make a buttermilk. Sit for 10 minutes.
Combine dry ingredients in a medium-sized bowl and whisk together.
Pour buttermilk into the dry ingredients and mix well.
Pour the batter into donut pans.
Bake for 8-10 minutes or until cooked to golden perfection. Once done, remove from the oven.
Prepare the Glaze
Whisk melted butter, milk and salt together
Add powdered sugar a bit at a time, whisking after each addition until a smooth glaze forms.
Dip donuts into the glaze.
Serve immediately or let cool completely and store in an airtight container.
Summary
Though Krispy Kreme donuts aren't vegan, there are many other options out there and hopefully, in time, Krispy Kreme develops a vegan alternative that is just as delicious as their non-vegan products.